In honor of Thanksgiving, which I am not hosting nor cooking much for, I thought I'd share some
Butternut Squash Risotto
http://thepioneerwoman.com/cooking/2013/01/butternut-squash-risotto/
I'm a huge butternut squash fan! I love dicing it up and roasting it with potatoes and spices, I love baking it and eating it with butter and brown sugar, etc. So this was a great find. This would be a great side at Thanksgiving or - I added some left over chunks of chicken breast when I made mine so you could make it with turkey leftovers. I just cooked my chicken breast with the onion so you could add it after that step.
Chicken Meatball & Orzo Soup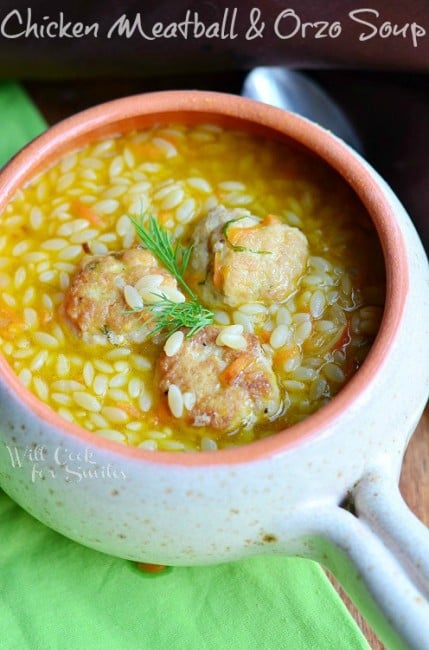 orzo
pasta instead of
arborio rice
. So then I went searching for something to use orzo pasta for and I found this delicious soup. For the
ground chicken
I just cut up some raw chicken breast and threw it in my food processor which ground it up great. There is so much flavor in this soup and tasted great on a cold day!
Chicken
(or turkey)
Pot Pie
http://www.the-girl-who-ate-everything.com/2009/07/chicken-pot-pie.html
I'm sure everyone has a good recipe for Chicken Pot Pie. I ended up using like 3 different recipes I think but this one pretty much sums it up. I like that it didn't use canned cream of anything soup. It made it taste really fresh. I used the
Our Best Bites pie crust recipe
. You could also use leftover turkey in this.
This last one is kind of random, I just figured I'd add it because they were a different twist on enchiladas that I found and I ended up loving them and so did company. These could also work for when you're sick of eating turkey and just want some chicken or pork in your life:
http://www.melskitchencafe.com/2008/03/honey-lime-enchiladas.html
Pin It